Introducing Power
Since 1971, Power has offered athletic footwear with great performance, comfort and style, available for all.
Power Collections
DuoFoam Max
You won't feel the road! When you run with DuoFoam Max, you are so cushioned and comfortable that you won't notice how far you've run.The high-stack midsole represents 25% more foam to guarantee maximum cushioning. DuoFoam soft inserts provide added cushioning. It's a win-win combination that offers the smoothest running experience.
DuoFoam Max
DuoFoam Max is Power's new maximum cushioning running shoe. These performance shoes are designed to give you a premium experience for your day-to-day runs. The meta-rocker design of DuoFoam Max has a high-stack, dual-density EVA midsole that provides maximum comfort and stability, with DuoFoam soft inserts in the heel and forefoot for cushioning, and our standard surface foam for a stable landing.
Product Specifications
Outsole - Rubberized EVA
Midsole - Dual-density EVA with DuoFoam soft inserts
Insole - Open-cell PU
Upper - Airmesh (textile)
Lining - Mesh (textile)
Power Love Ocean
Our most comfortable collection to date has gone eco-friendly.

Built on the solid foundation principles of our Engage collection, Power Love Ocean are made using recycled single-use plastic bottles caught before they reach our oceans. It's the perfect versatile shoe for anyone who wants top-notch design and shoe technology, and unbeatable comfort, all while making an impact to protect our planet.
Eco-friendly benefits
Love Ocean is Power's new sustainable collection. Made of 100% recycled plastic bottles, the EngageFlex 100 Series knit upper is highly breathable. The Ortholite hybrid insole, made with 5% recycled rubber and 15% recycled foam, has a top mesh cover made of 100% recycled materials.

Product Specifications:
Outsole - EVA with 10% recycled rubber
Insole - Foam containing 5% recycled rubber and 15% recycled foam
Upper - Knit made with 100% recycled plastic bottles
Lining - Mesh made with 100% recycled materials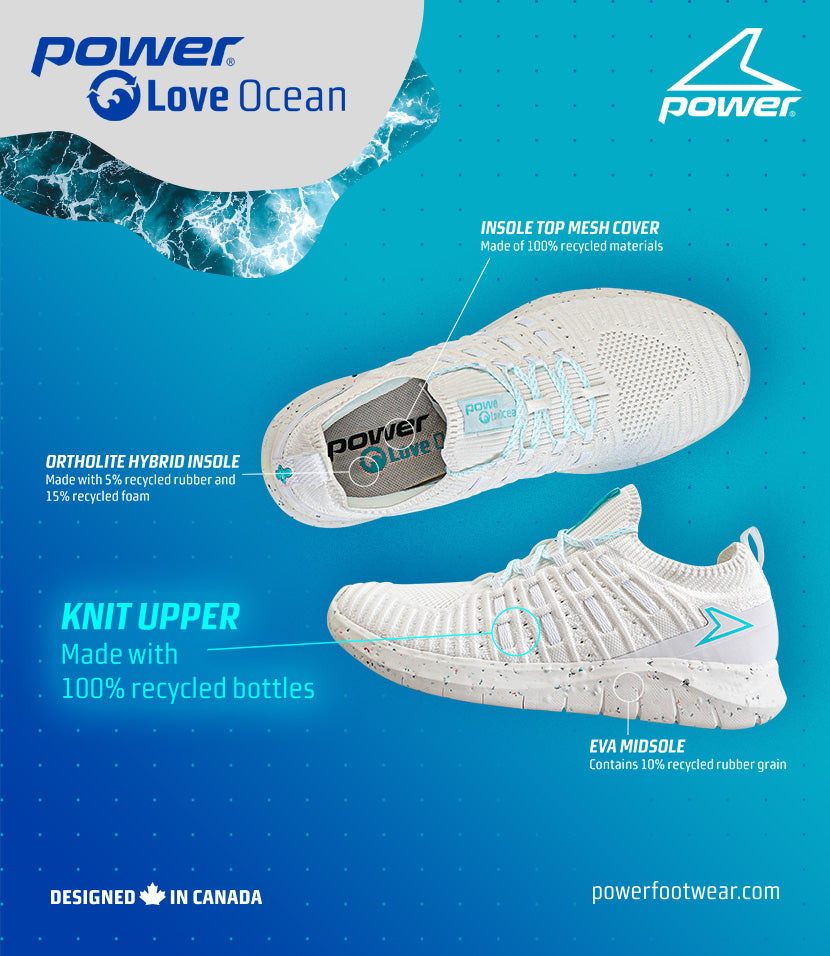 Engage Flex
EngageFlex is Power's new lightweight running shoe that is machine washable. Its outsole is made of EVA and features ower's FXS technology.

Made of ribbed knit, the upper is highly breathable, and padded lining adds a level of comfort to the heel area. EngageFlex 100 Series have moulded grooves that deliver the ultimate flexible experience and an integrated flywire lacing system that helps secure the foot.

EngageFlex 300 Series have a combination of moulded grooves and Hot Knive Siping cuts for the ultimate flexible experience, and an integrated lockdown lacing system that helps secure the foot.
FREE DELIVERY OVER 400 TAKA
EXCHANGE FROM ONLINE
30 DAYS WARRANTY
LOGIN TO BATA CLUB ACCOUNT